CDNetworks offers a managed cloud-based authoritative DNS (CDNS) service that is secure, reliable and scalable and offers high performance under any traffic conditions from anywhere in the world. Implementing CDNS is as simple as three easy steps including organization of domains into zone files, zone file publishing, and delegation change through the domain registrar. Once the zone is offloaded to CDNS - our secure, reliable, scalable and global infrastructure will ensure website consistent availability and responsiveness to users around the world.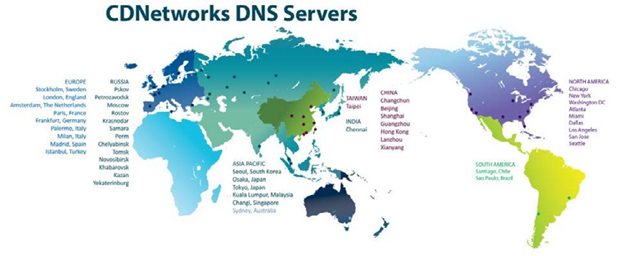 Cloud DNS also supports zone transfer between primary name server and CDNS name servers. Transfers are performed through a process called the Zone Transfer Server (ZTS) which is physically separate from the name servers. These servers are designed to not accept requests from any other source, thereby providing an additional layer of security to the DNS system. ZTS validates zone data and notifies administrators whenever DNS changes are published to production. Furthermore, transfers may be secured through the use of TSIG keys.
CDNS has been purpose-built to address the web performance needs of enterprises. Natively integrated with our Web Performance Suite (WPS), CDNS provides optimal performance since an additional step of resolving the CDN is eliminated. By offloading the complex task of DNS infrastructure to CDNetworks, you can concentrate on your core business, and get massively scalable, high performing, secure and an "always-on" DNS system without large upfront capital costs or technological investment.