To create a new live channel, please click Create Channel. Theoretically, you can create as many channels as you like.
Basic Information
This includes the Name, Start Time, Scenario and Channel Introduction of a live channel.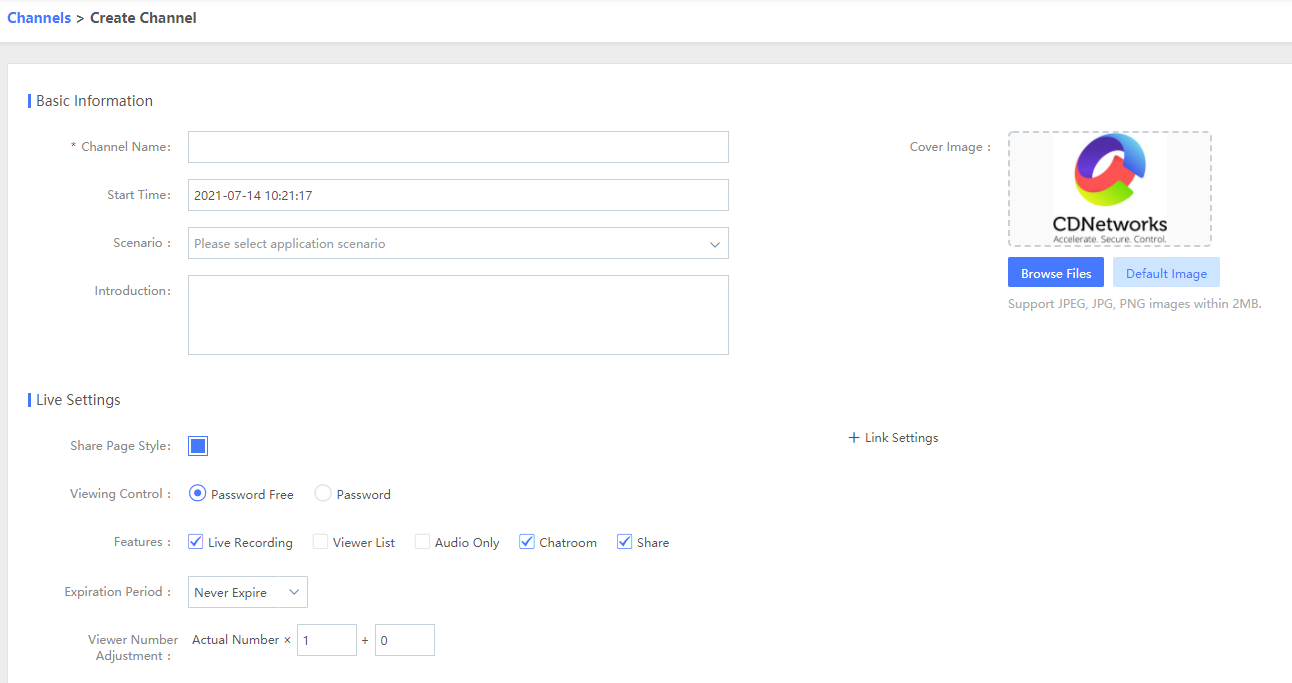 Live Settings
You can also configure the Live Settings based on your needs. Click Submit after all settings are completed. See the description of Live Settings below.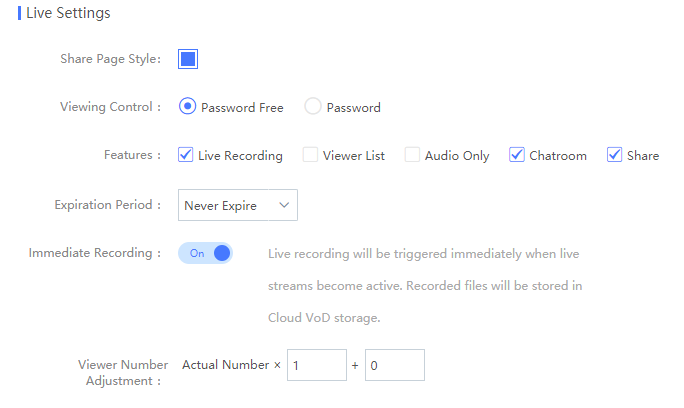 Viewing Control: This is the access control of the share page. You can choose whether a password is needed to access this channel when it is shared with others.
Features

Live Recording: Tick the box to enable live recording feature for this channel
Viewer List: If this box is ticked, the share page can only be accessed by viewers in the viewer list via viewer account logging in. After clicking Edit Viewer List, you will see a pop-up window where you can add new viewer accounts to the list. It supports manual editing and batch import, export, and modification through templates.

Audio Only: Tick this box to enable pure audio live broadcast for this channel.
Chatroom: Tick this box to enable the text chatting feature on the live share page, facilitating text interaction between viewers and the streamer.
Share: Tick this box to enable the feature of sharing the live broadcast to social media platforms (Support mainland-China applicable social media platforms).

Immediate Recording: If this feature is on, recording will automatically start once this channel starts streaming. After the live streaming finishes, you can view and edit the recorded files in Videos of Cloud VoD.
Viewer Number Adjustment: The number of audiences displayed on the share page can be adjusted accordingly.
Link Settings
After expanding the Link Settings, you can:
modify the push-stream domain and application name
setup the custom validation string of push-stream (you need to own an authentication server), and the validity for push-stream anti-hotlinking (Will be used for generating encryption parameters in push stream URL)
copy pull-stream ID
select player
choose the stream definition, etc.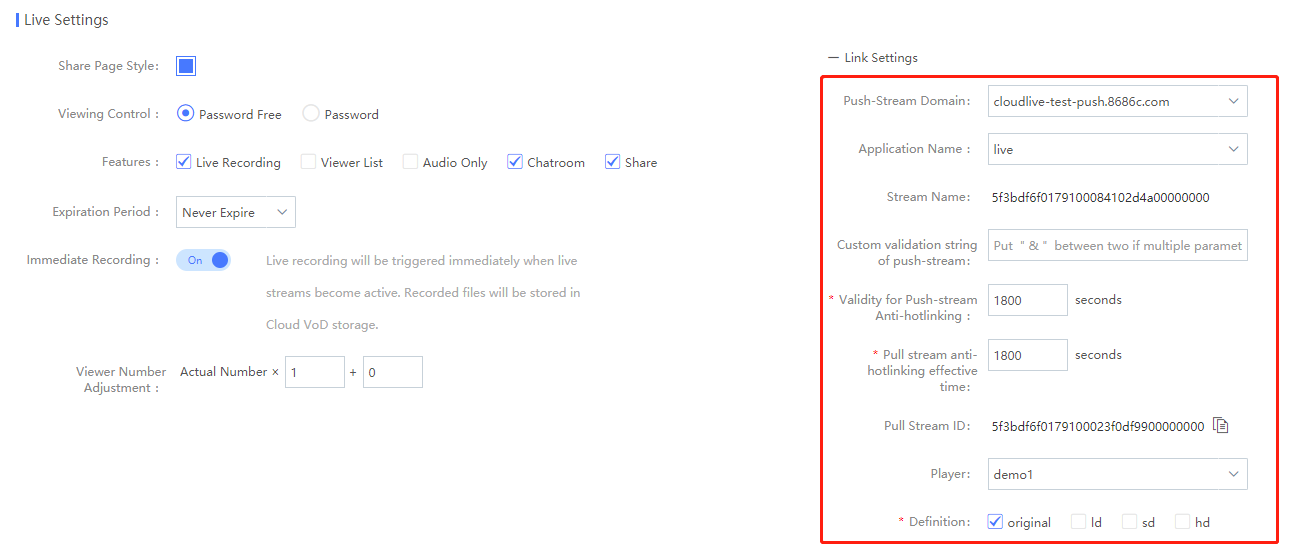 Push-Stream Domain:
Select the Push-Stream Domain used by this channel. If you do not use the default domain, select a different one here.
Application Name:
Select the application name used by this channel.
Stream Name:
The stream name is a random string generated automatically. Streams with a custom name cannot be maintained in Channels.
Custom validation string of push-stream:
To use this feature, customer needs to own an authentication server. The string is transmitted to the authentication server for identity verification.
Validity for Push-stream Anti-hotlinking:
Based on this validity, the Cloud Live platform will calculate and generate an encryption parameter, which will be included in the automatically generated push-stream URL.
Pull Stream ID:
This is not the stream name. The ID is included in the share links of the share page.
Player:
You can select an existing player here, and it will be the player loaded by the adaptive playback code.
Definition:
This is based on the live transcoding feature. The live transcoding configuration of a domain decides which resolution and bitrate a Definition level represents.