1 Feature Intro
1.1 Brief Introduction
WAF rule template is a feature that allows customers to configure the WAF rule more efficient. The configuration for WAF rules can be done at a specific rule template and customer can quickly deploy the WAF rule configuration by associating the template with WAF domain.
1.2 Applicable Product Lines
Application Shield
Web Application Firewall
2 Feature Detail
2.1 How it works
We seperate the WAF configuration from a specific WAF domain and provide Rule Template for customers to do the WAF configurations.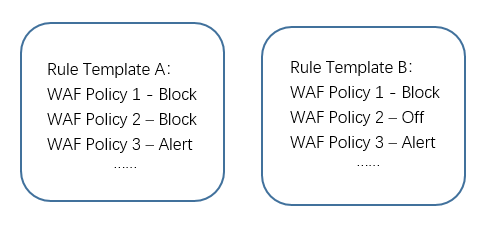 One Rule Template can be associated and applied at one or multiple domains. Once domain A associate with a rule template, the WAF configurations of the rule template will be deployed at domain A.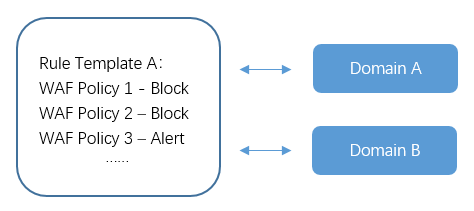 You can change the association between a domain and a rule template at any time.
2.2 Default Template
We provide the default template for our customers. The default template is designed for general business with low false positive and false negative rate.
2.3 Custom Template
Customers can create their own custom templates to meet business requirements.
3 Benefit
Convenient Management
By classifying domains and associating them with different templates, customers can manage the configuration of multiple domains in an intuitive and convenient way.
Efficient Operation
By modifying the configuration of a template, customers can change the configuration of all domains associated with the template.